Eating & drinking
Camping holiday means relaxation for the cook and the kitchen. In case your kitchen in your booked accommodation stays cold we are pleased to care for your well-being.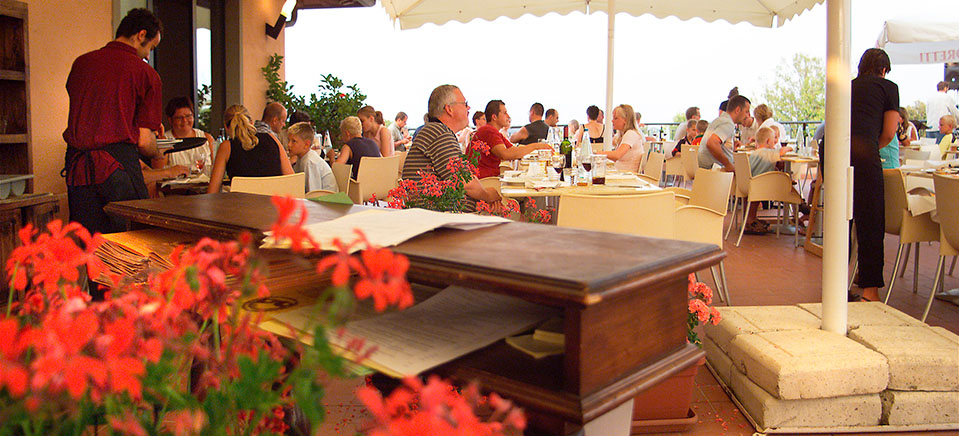 A culinary peace of Italy can be found in the 4 restaurants, the pizzeria, the snack bar, bars and the ice café.
A juicy steak, a fresh salad or traditional wood stove pizza - our restaurants offer a rich menu with characteristic Tuscany kitchen. No wish stays open. Of course we have thought of children and vegetarians, too.
Stop! We almost forgot our sweet goodies. At the Norcenni Girasole Club there are numerous places where you can get ice-cream. At the Gelateria Elmi the ice-cream is freshly made by the chef himself. Crêpes, sorbets and frappes spoil the palate of the holiday maker.
Tasting a Florentine steak at the Ristorante IL Vecchio, a tasty pizza at the traditional Ristorante Norcenni and eating vegetarian at the Ristorante Sant'Andrea. And when you do not want to eat out and do not want to cook you can order at our Take away restaurant. For the small hunger the bars offer snacks and breakfast.
Did we stimulate your appetite?
In the large supermarket the self-suppliers can arrange their menu themselves.
Now we have talked enough about food. The hot weather can make you really thirsty. Our different bars offer lemonade, juices, ice tea and a selection of beer and wine.
Apropos wine - the location of the Norcenni Girasole Village obligates to make a wine tasting and a fine degustation.