Accommodations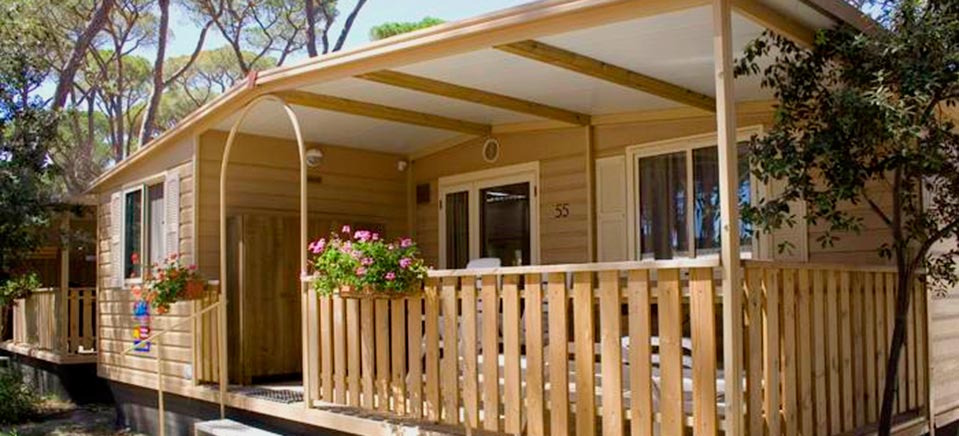 Regardless of whether you want to rent a comfortable vacation apartment or a bungalow for two, an accommodation for a small or large family or you prefer a quieter spot or one right in the middle. With its differently equipped accommodations Norcenni Girasole can cope with every demand.
The resort, camping site Norcenni Girasole extends to with bushes and shrubs covered hills where you can decide whether you prefer relaxing in the shadow of the trees or lying in the sun.
Choose between small bungalows for up to 4 people or the bigger once for 6 people. Our mobile homes are available in different sizes and with miscellaneous configurations and offer room for up to 6 people. So it is your choice to take the simple version or the luxurious version. Depending on the booked version the bungalows, apartments or mobile homes are equipped with a sleeping room, bunk beds, a living room, a cooking niche, bath room(s) with toilet and shower, heating, air-conditioning, bedding, pillows and blankets. According to the category heating, air-conditioning, bedding, pillows and blankets are there. On the lovely verandas you find chairs and tables.
The vacation apartments of the Villa Norcenni are the perfect choice for those who like it classier. Since all apartments are furnished in Tuscan style and are equipped with a bath room with shower, a toilet and a complete equipped maisonette. Besides the characteristic Tuscan atmosphere the beautiful view is the highlight of the villa.
Furthermore you can rent a pitch on our camping site. They are all shady and have a connection for power supply and a water connection. The first class showers are next to the pitches you. If you do not like to share your bathroom you can rent a separate bathroom.